new
Windows Roaming Client
2FA Enforcement and User 2FA Reset
Owners and Administrators can now enforce Two-Factor Authentication (2FA) across their entire organization.
Additionally, owners and admins can reset 2FA for their dashboard users directly in the app.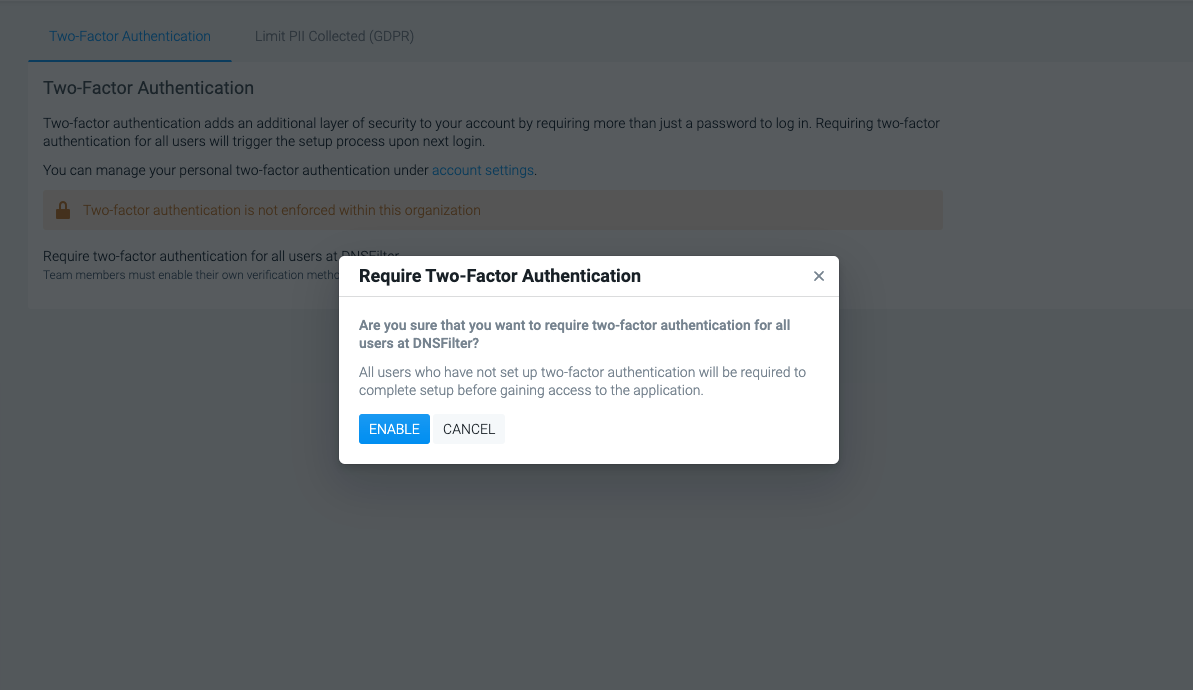 Zapier Improvements for MSPs
New improvements have been made to the DNSFilter+Zapier integration to enable MSPs to create Zaps that can be customized for each sub-organization. An
External ID
field has now been added to the
Sites
and
Organization
profile settings to enable integration with external services.
Using this identifier, MSPs can now associate a DNSFilter sub-org/site to its existing location within a selected integration through Zapier.
Windows Roaming Client Logs
Users of the Windows roaming client can now collect logs locally. These logs can be found in a new folder we have introduced in the default installation location of the DNSFilter agent. Windows RC logs have a 7-day lifecycle thus, logs older than 7 days are automatically deleted. Because our roaming clients auto-update, customers who currently have the Windows RC installed should see logs within 2 days of the release.
Prior to this release, when the Windows RC encountered a specific error, the Windows RC restarted, giving the end-user the impression the application had crashed. This release corrects this issue.
Prior to this release, when an

MSP

navigated to the

MSP org

(not the dashboard), selected

Deployments

,

Sites

, and edited the Block Page for multiple sites, the Policy would default to

No Policy

. This has been corrected.
Prior to this release when an

MSP

navigated to a sub-organization's

Deployments

,

Sites

,

Global Policies

had the

globe icon

, and

Global Pages

did not. This has been corrected.